When picking up Business Schools, the one thing that's always at the back our minds is the fact that we need to get placed and placed well. In this regard, Vignana Jyothi Institute of Management (VJIM), Hyderabad, one of the top PGDM schools in the India has maintained a stellar over the past few years and ensured that not only do its students get quality education they get exposure and finally assimilation in the mainstream professional world.
Looking back at 2017 is a powerful talisman of what can be very well expected in 2018. Droves of FMCG companies, tech companies and even real estate firms sweep in to hire VJIM students for their unique grasp on management education.
Deloitte, ITC, Tech Mahindra, TIME Education, Conduira Online, ICICI Bank, HDFC, Shriram Housing Finance wile the rest were picked by AutoRabit, Schindler, Fitch Ratings, Nestle Godrej Consumer Products. The average salary so far touched Rs. 5.4 lacs per annum with eighty percent median at Rs 5.0 lacs pa. The minimum salary offered to a student this year was Rs. 4.0 lacs per annum and highest offered, was Rs. 6.5 lacs per annum.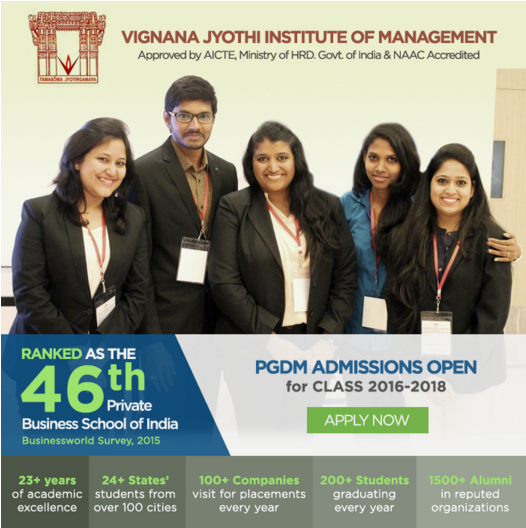 The placement brochure of Vignana Jyothi Institute of Management says that they strive to provide differentiators that cannot be termed 'ordinary' or 'suitable for all'. They do believe that the so called competitive differentiators i.e. aspects that make VJIM unique when compared to other players in their field. It forms the basis of their success and will allow them growth in a competitive and dynamic business market environment.
Students who were asked look into the past, they were filled with pride that they who once who once studied at VJIM are now working with giant conglomerates and are fraternising with top people in the industry. Vignana Jyothi Institute of Management trains them well within the framework of rigorous curriculum and moulds them a certain way which really shine at the Alumni Meet. The alumni network believes in carrying forward the people who study and helping them around and beyond placement.
To put it in clearer terms let's hear what an alumni, Michael Jackson, placed with ACT Fibernet has to say, "VJIM was an opening to a new culture, a new language [and] new environment. It transformed me to a socially responsible manager. And I strongly believe that patience and perseverance are the key to success."
Admission is now open for PGDM Class 2017- 2019. For more details, visit: http://www.vjim.edu.in